David Feiner has been on our radar for a while. A recent graduate of Long Beach State University (LBSU) and former vice president of the LBSU chapter of alt-lite, fascist gateway organization Turning Point USA as well as associate of the Long Beach Young Republicans, Feiner, born March 24, 1992, has apparently embedded himself in alt-right networks in Southern California and beyond, associating himself with everyone from far-right US House candidates to openly fascist individuals. We feel that you, residents of Southern California communities, should know more about David Feiner and the danger he poses to the greater Long Beach community in order to unite against the growing threat of white nationalism and white supremacy.
With Friends Like These…
Connections to Twice-defeated Far-Right House Candidate Omar Navarro
Feiner is a long-time and current friend and staffer for Republican House candidate Omar Navarro, known for losing two congressional races to Maxine Waters (D – CA) and his connections to a laundry list of fascist groups, as well as recently being featured in the news for allegedly hiring a far-right operative to harass and intimidate his ex-girlfriend.
Numerous other pictures uploaded to Feiner's Instagram depict him with the congressional candidate, and Navarro even congratulated Feiner on his graduation from Long Beach State University.
It's unclear how Feiner and Navarro became connected, but what is clear is that they have both been associated with individuals and groups on the far-right that are notorious for their violent, fascist, and white supremacist views.
Vincent James Foxx, The Red Elephants, & Rise Above Movement
Feiner has been associated with Vincent James Foxx, founder of far-right news outlet The Red Elephants, described on their website as an "organization of like-minded conservatives that have come together to spread awareness and truth," since at least 2017.
On social media, The Red Elephants, which at this point included both Feiner and Foxx, were notorious for "spreading awareness" of half-baked, antisemitic conspiracy theories (note the triple parentheses trope) that attempt to scapegoat Jewish individuals such as George Soros and the Jewish community at large for the power and wealth disparities within the global capitalist system. This white nationalist "global Jewish order" conspiracy theory motivated the Tree Of Life and Poway synagogue shootings and is one of many deadly white supremacist ideologies forwarded by David.
Offline, The Red Elephants were notorious for their efforts as propagandists for the Rise Above Movement (RAM). The Southern Poverty Law Center has designated RAM as a hate group, and four members plead guilty to violent acts in the deadly 2017 Unite the Right rally in Charlottesville. From a 2017 ProPublica report on RAM:
[Vincent James] Foxx, a father of three who runs a growing media operation called The Red Elephants, had become RAM's unofficial propagandist. After the Huntington Beach brawls, which he attended and filmed, Foxx put together a nearly 10-minute video glorifying the group's fighting abilities and uploaded it to YouTube, where it has garnered 174,000 views to date.
Indeed, video evidence from Navarro's Facebook livestream of a far-right anti-Muslim rally in San Bernardino uploaded to his YouTube channel places Feiner and Navarro at the scene with a diverse mixture of fascist agitators, including members of RAM—at one point, Navarro is even seen complimenting a masked individual's antisemitic sign. This masked individual is none other than Benjamin Daley of RAM, one of four members now facing criminal charges for his roles in the violence at the Unite the Right rally.
A Motley Crew of Fascist Agitators
Before this point, Feiner had also taken an opportunity to pose for a photo with Nathan Damigo (above), founder of SPLC designated hate group Identity Europa (now American Identity Movement). At the so-called Battle of Berkeley on April 15th, 2017 (note that Feiner's picture with Damigo was uploaded on April 29th, 2017, only two weeks after the Berkeley events), both Damigo and members of RAM, including Ben Daley, unleashed violence on antifascists attempting to defend their communities from fascist threats. ProPublica also notes that Vincent James Foxx was present at the Berkeley rally as well:
…about a dozen RAM members traveled from Southern California to Berkeley. The group was met there by a fan: Vincent James Foxx, a 31-year-old video blogger and livestreamer with a fondness for white supremacists and radical right-wing politics.
At yet another west coast far-right rally in June of 2017, this time in Portland, Oregon, Feiner was accompanied by a motley crew of fascist agitators including Antonio Foreman and Baked Alaska.
According to an article penned by Foxx,
Feiner also paid a visit to Foreman during the latter's brief hospitalization
in that same month. Foreman is a violent white supremacist who has acted as muscle for various groups and individuals on the far-right at rallies. During his hospitalization, Foreman recited the infamous
neo-Nazi 14 Words
while on a livestream. He has since taken part in threatening a
bookstore
and a
church
as part of other extremist white nationalist groups, as well as participating in the 2017 Unite the Right rally in Charlottesville.
Foreman and other white nationalists failed to show up to their own rally in Long Beach earlier this year after facing organized resistance from local antifascists and community members.
Activities in the Greater Long Beach Area
Cudahy City Council Anti-Sanctuary Demonstrations
Feiner was present at a heated Cudahy City Council meeting in June of 2017 with Omar Navarro. Feiner stood with Navarro and anti-immigrant protesters in an attempt to force Cudahy City Council to repeal sanctuary protections.
After being chased out of the city by community members and activists, Feiner allegedly deployed pepper spray against a group containing children while in a vehicle fleeing the scene.
Turning Point USA and Long Beach Young Republicans
During his time at Long Beach State University, Feiner was a member and served as Vice President of the college's Turning Point USA (TPUSA) chapter. In an interview with the Long Beach Press Telegram in October of 2018, Feiner defends his group's decision to invite TPUSA founder Charlie Kirk, who regularly shares racist, anti-immigrant, and transphobic content on his Twitter account, as well as the group's former Director of Communications, Candace Owens, who resigned earlier this year after facing backlash from comments she made defending Adolf Hitler, to LBSU for an event, despite facing active resistance from queer and trans activists of color on campus, who are placed in enormous danger by the rhetoric spread by Kirk and Owens.
During the end of his stint at LBSU. Feiner also served as Vice President of the Long Beach Young Republicans, although he is currently no longer listed on their website.
On Social Media
More recent posts on Feiner's Instagram illustrate his continued dedication to promoting alt-right, fascist, and white supremacist conspiracy theories, masked behind as attempts at "trolling" liberals and antifascists and supporting Donald Trump. One post promotes a conspiracy theory in defense of neo-Nazi James Alex Fields' murder of Heather Heyer at the 2017 Unite the Right Rally in Charlottesville. James Alex Fields was sentenced to life in prison earlier this year for his role in the events at the Unite the Right rally.
Additionally, Feiner receives likes on Instagram from Kenny Strawn, a white nationalist based out of Orange County who attempted to start a US chapter of Generation Identitaire, an "identatarian" neo-Nazi movement that has gained a foothold in Europe.
Feiner is Going Places
In a Facebook post and photo in which Feiner tagged the infamous Roger Stone, known Proud Boy and political "fixer" who is awaiting trial for charges related to witness tampering and making false statements, Feiner says that he thinks he's "going places,' using an emoji of a hand pointing up. Apparently, Feiner thinks he's moving up—a rising star of the far-right.
Like Navarro, Feiner is a dangerous blend of civil, respectable, conservative politics and violent, white supremacist rhetoric. Feiner's network is wide-ranging, and the middle ground he has occupied by seeking power in groups like the Long Beach Young Republicans and the Long Beach State chapter of Turning Point USA position him to act as a recruiter and gateway into the the world of fascism, amplifying the danger he poses to individuals who are not cisgender, heterosexual, white men, while also giving him an easy in for occupying political power in the mainstream.
Update 08/26/19 @ 4:36pm
Left Coast Right Watch (@LCRWnews) was able to provide a photograph of Feiner with Juan Cadavid, Nathan Damigo, and Robert Bowman of RAM (Rise Above Movement) at the April 15, 2017, "Battle of Berkeley" rally at which Damigo and members of RAM violently attacked anti-racist protesters.
Northern California Anti-Racist Action has write up on Brodin Sutherland here. Univisión has a write up on Juan Cadavid here. Please, if you have a moment, read the two articles.
An anonymous source was able to provide photographic evidence that Feiner, along with founder of The Red Elephants alt-right media Vincent Foxx, Arthur Schaper of Mass Resistance, and Proud Boy Nicholas Ryan, attended the "free speech" rally in Berkeley on August 27, 2017.
The Red Elephants alt-right media is based in Lake Forest, CA, and Mass Resistance is based in Torrance, CA.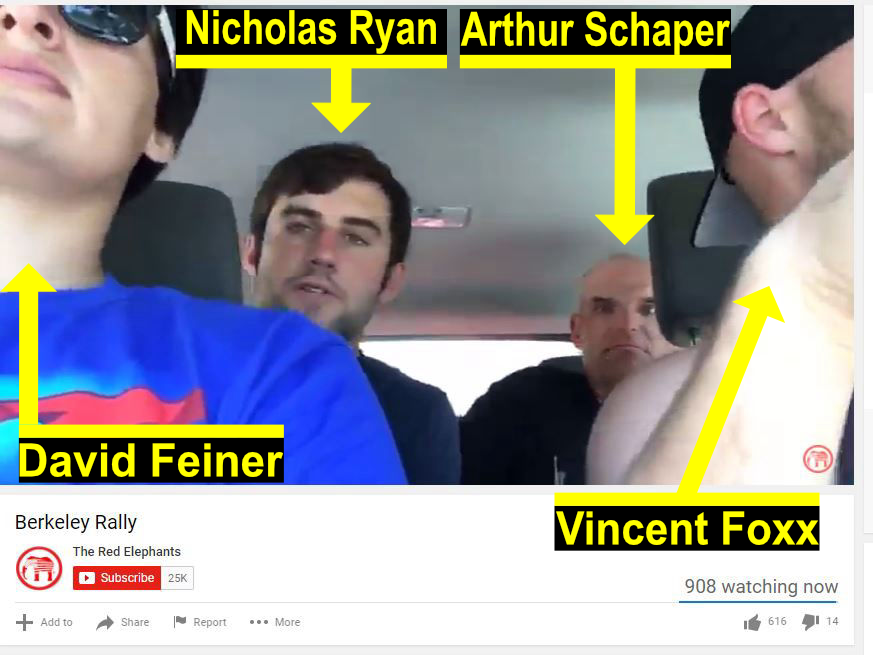 SOURCES
https://archive.fo/7L6LA – LA Times – 2017
https://www.lbyoungrepublicans.org/board
https://archive.fo/H3PuN – Press Telegram – 2018
https://archive.fo/nz4lY – Red Elephants Foreman
https://archive.fo/UbAQ8 – Propublica – 2017
https://archive.fo/BFE1e – Atlanta Blackstar Candace Owens – 2019
https://archive.fo/f0vvp – Article archive